Dewey Decimal System
Used by public schools, public libraries and some college Libraries
Suppose you're looking for the same book, Guts: Companies that Blow the Doors off Business as Usual in a library that uses the Dewey Decimal System.
Search the title in the book catalog to find the call number: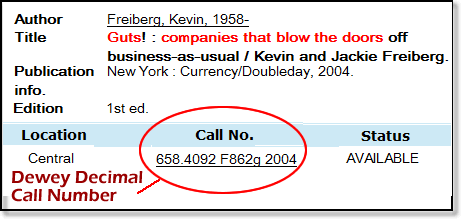 Dewey Decimal call number in Detail

The most important line to understand is the first line. In Dewey Decimal, the numbers in the numbers in the first line represent the subject of the book.
Call numbers are arranged by following the numeric and alphabetic order.
Next >>